Edgar Allan Poe and The Tell-Tale Face
of Carbon Monoxide Poisoning

Edgar Allan Poe (1809-1849) -- like everyone else who lived in 19th century American cities --
was repeatedly poisoned by exposure to carbon monoxide (CO) from illuminating gas,
which was made from coal and contained extremely high levels of CO.

As shown in the poster below, Poe's face shows a unique abnormality
in which one eye is lower than the other while his mouth slants the other way.
The same abnormality can be seen in the faces of people poisoned by CO today.
It is caused by the effect of repeated CO exposure on facial nerves
and can be partially if not completely reversed with months of daily oxygen therapy.
(very high levels of CO exposure, in comparison, can cause complete paralysis or coma)

Poe described many symptoms of CO poisoning in his letters, poems and tales, and
he specifically described multi-sensory sensitivity in both Tell Tale Heart and Fall of the House of Usher.
Anyone poisoned by CO can identify with the bizarre physical and mental symptoms he describes,
but of course many people not poisoned by CO still think Poe was just crazy, drunk or both.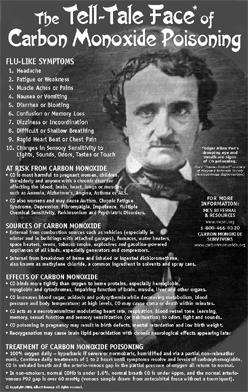 Last Modified: 10/24/06